Industrial Sulphur Powder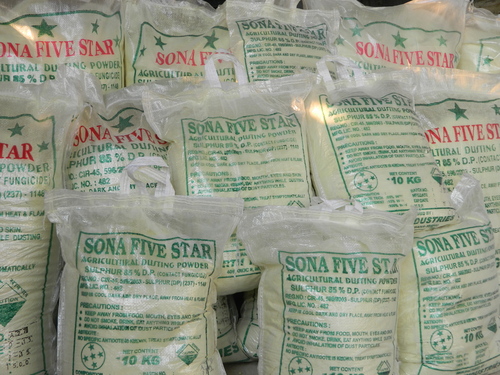 Industrial Sulphur Powder
Product Description
SONA 5 STAR SULPHUR
SULPHUR 85% ADP
SONA 5 STAR SULPHUR powder is fine powder for dusting in farm.
SONA 5 STAR SULPHUR has dual role. It is powderful fungicide and SONA 5 STAR SULPHUR is very important micro nutrient after NPK.
When sulpur is systematically absorbed in plant, sulphur protects plant from many fungal infections.
Sulphur increase oil content in seeds thats why it is beneficial for oil crop like castor seeds, Cummins, mustard, cotton seed, soya bean, sunflower, groundnut etc. Also useful for wheat, maize, rice, and potato.
Dose:- 25 to 50 kg per htr. depending on crop.
Packing:- 5,10,25 and 50 kg. HDPE transparent bags.
Contact Us
405, GIDC 2, DEDIYASAN, Mehsana, Gujarat, 384002, India
Phone :+918045475184